BS Chemical Engineering Courses
The curriculum requires the completion of 128 credit hours of course work. The average load is 16-17 hours per semester based on eight semesters.
General Education Requirements - 40 credit hours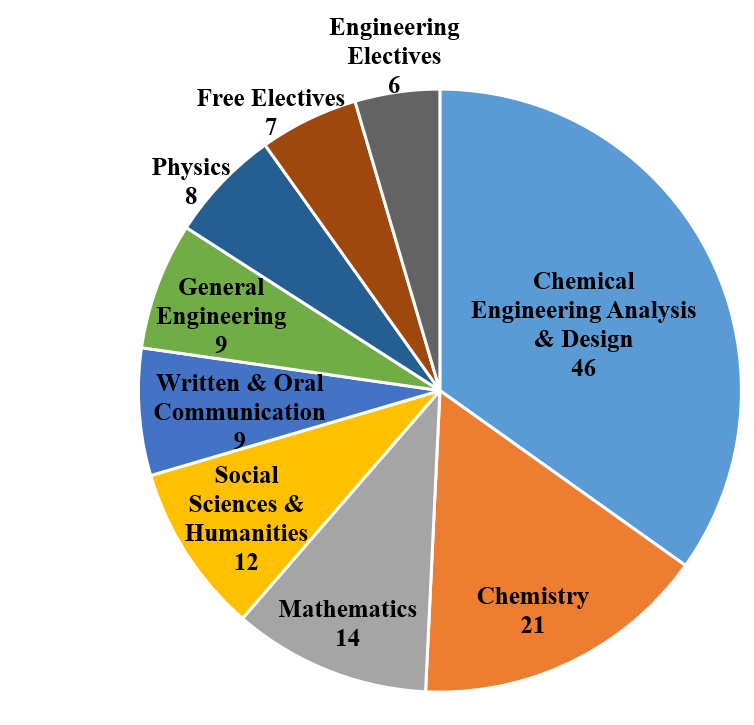 ENG 133 Technical Communications
HUM 203 Humanities Seminar
SP 203 Effective Speaking
MA 134 Calculus I
MA 164 Calculus II
MA 213 Calculus III
MA 233 Differential EquationsPH 224 University Physics I
PH 234 University Physics II
Humanities Electives - 3 credit hours
Humanities or Social Science Elective - 3 credit hours
ECO 203 Survey of Economics or ECO 213 Microeconomics
or ECO 223 Macroeconomics
Program Requirements – 60 credit hours
GE 101 Introduction to Engineering
GE 401 Professional Practice
ES 141 Biology for Engineers
ES 233 Engineering Materials
ES 382 Engineering Economics
CHE 203 Material Balances
CHE 212 Energy Balances
CHE 222 Process Measurement Lab and Sustainability
CHE 252 Statistics and Computational Methods
CHE 303 Chemical Engineering Fluid Dynamics
CHE 313 Chemical Engineering Thermodynamics I
CHE 333 Unit Operations Laboratory I
CHE 372 Chemical Engineering Thermodynamics II
CHE 373 Chemical Engineering Heat Transfer
CHE 383 Mass Transfer
CHE 393 Stagewise Separations
CHE 412 Applied Numerical Methods
CHE 433 Unit Operations Laboratory II
CHE 453 Chemical Engineering Kinetics
CHE 463 Chemical Engineering Dynamics and Control
CHE 473 Chemical Engineering Design I
CHE 483 Chemical Engineering Design II
Chemical Engineering Electives - 6 credit hours
Additional Requirements - 28 credit hours
CH 104 General Chemistry I
and CH 114 General Chemistry II
or CH 155H Honors Advanced General Chemistry
CH 204 Organic Chemistry I
CH 211 Organic Chemistry I Lab
CH 234 Quantitative Chemical Analysis
Chemistry Electives - 8 credit hours
Free Electives - 4 or 7 credit hours

Also available are minors in Bioprocess Engineering, Environmental Engineering, Math, and Business
* For a complete description of the above requirements, please go to the Course Catalog.