Sound financial management and cost accounting are key to the strategic objectives and success of a business organization. The Bachelor of Science in Business Administration - Accounting Major provides you with practical, hands-on experience in the accounting field.
You also have an option to earn graduate credit toward an MBA or Master of Science in Business Analytics while working on this bachelor's degree. Through this combined degree program, you can finish both degrees in just four years and save up to $8,625!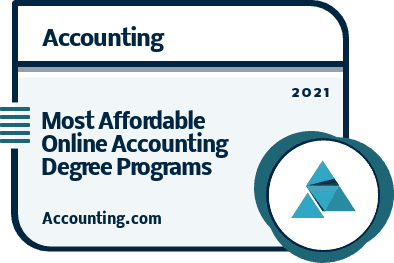 Ranked #1 by Accounting.com as the most affordable online accounting degree program!
The Experience
As a student in this online accounting program, you will learn from our expert faculty who have both national and international corporate experience. You will gain valuable skills using software such as Peachtree and QuickBooks while you study modern accounting methods and practices with the goal of sitting for the CMA or CPA exam.
The Results
As a graduate of this bachelor's degree in accounting, you will use your valuable experiences from internships to secure an accounting positions. Our graduates are working for companies ranging from manufacturing organizations and CPA firms to energy companies.
Uniform Certified Public Accounting Examination Candidates
Indiana and many other states require that a first-time Uniform Certified Public Accounting (CPA) Examination candidate must have at least 150 semester hours of college education, including a baccalaureate or higher degree, with an accounting concentration or its equivalent. If you wish to meet this requirement, be sure to plan an individualized program with your academic director or assigned faculty advisor. This program will encompass an additional 42 semester hours of course work in humanities, mathematics, social sciences, business and accounting.
A Bachelor of Science in Business Administration - Accounting Major requires 120 credit hours.
General Education - 39 credit hours
ENG 143 College Composition
or ENG 133 Technical Communication
HUM 203 Humanities Elective
SP 203 Effective Speaking
COM 213 Business Communication
ECO 213 Principles of Microeconomics
or ECO 203 Survey of Economics
ECO 223 Principles of Macroeconomics
or Social Science Elective - 3 credit hours
Humanities Elective - 3 credit hours
MA 113 College Algebra
MA 173 Essential Calculus
or MA 163 Applied Math with Business Concepts
MA 253 Statistics
Science Elective - 3 credit hours
BA 213 Advance Spreadsheet for Business
PSY 113 Psychology
Business Core - 38 credit hours
AC 203 Accounting I
AC 213 Accounting II
BA 123 Business Concepts
BA 201 Professional Development and Strategies
BA 453 Global Strategic Management
FIN 303 Managerial Finance
FIN 353 Personal Finance
LAW 203 Business Law and Ethics
MGT 353 Designing Operations
MGT 363 Organizational Behavior
MGT 373 Capsim Business Simulation
or BA3113 Business Internship
MK 203 Marketing
UE 111 Online Learning Orientation
Major in Accounting - 30 credit hours
AC 303 Cost Accounting
AC 323 Intermediate Accounting I
AC 333 Intermediate Accounting II
AC 373 Accounting Information Systems
AC 403 Advanced Accounting
AC 423 Personal Income Tax
AC 463 Auditing
FIN 413 Advanced Managerial Finance
AC or FIN Elective (300/400 level) - 6 credit hours
Additional Program Requirements - 13 credit hours
BA 113 or Computer Literacy/Elective
General Electives - 10 credit hours
For a complete description of the above requirements, please go to the Course Catalog (opens in a new window).
TrineOnline delivers the convenience and accessibility of an online degree program with classes starting every eight weeks. Our asynchronous classes mean there are no set class times, so you can login whenever is best for you.
Learn more
about the benefits of Trine's online degree programs.
We offer an affordable education for active duty military students working on their undergraduate degree. Please see our
Cost and Investment page
for more information.
Program Information
Degree
Bachelor of Science in Business Administration - Accounting Major
School/College