5 Questions with Ken Shelton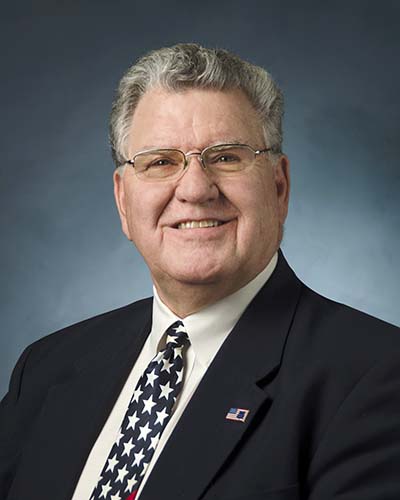 By Mariah Rodriguez
Civil Engineering '21
Ken Shelton, 1981 BASS, began a one-year term as National Director of the National Association of Legal Investigators (NALI) in September. A lifetime resident of Angola, Indiana, he is owner of Shelton Investigations, LLC, in Angola and was an Indiana State Police officer for 13 years before he retired in 1981.
How did you become a legal investigator?
After I retired from the State Police, I was Assistant Vice President of Sales for Coachmen RV's Shasta Division for several years in Middlebury, Indiana. I then returned to Angola and opened a marketing business. During this time, I was approached by a friend of mine who was also with the Indiana State Police. We attended Tri-State together and he went on to get his law degree. He shared with me there was a real need for a private investigator in the Steuben County area. I did some research and decided it was something I always enjoyed when I was with the State Police. I am currently licensed in the states of Indiana, Ohio and Michigan. Our office works with attorneys, other investigators and the public who need the services of a private or legal investigator.
Do you enjoy what you do?
Very much. It's something different every day. We do a multitude of different things in our office, but criminal investigation is one of my areas of expertise, as well as accident investigation and personal injury investigation.
Can you describe your new role in NALI?
After joining NALI, I became a regional director representing Indiana, Ohio, West Virginia, Michigan and Kentucky. In that position I worked with all the legal investigators in those areas associated with NALI. Every year the national director, the assistant national director and secretary are elected from the membership. Each one of those positions can serve a maximum of two years, but they must be re-elected each year. I was approached about putting my name in for national director and running, and I did. I was elected at the 50th Anniversary NALI Conference in Washington, DC, in June 2017 and took office in September.
As National Director, I'm actually the chief executive officer of the association, so I deal with the responsibilities of the association — membership, getting new members and dealing with the daily functions of NALI. We have over 300 members nationally, and in Canada and the UK. Networking is one of the greatest benefits of NALI membership. All our members have different fields of expertise and are licensed in different states. If a member needs help in a state where I have a license they can call upon me for assistance.
How has your Trine education helped you?
The educational experience was beneficial. I started at Tri-State University at an older age. I had been out of school for 12 years since graduating from high school in 1965. I was more mature than a lot of the students and had a lot of life experiences with the State Police; but especially at my age, I wanted the education. I knew what career path I wanted to take and having a social science degree was a more well-rounded experience. Through writing, speaking and dealing with people, it was just a great experience and very worthwhile. I cannot overemphasize how appreciative I am of Tri-State University for their flexibility in scheduling the classes around my 54-hour work schedule with the State Police, which made it possible for me to graduate in the scheduled four-year program.
When I went to Tri-State it didn't have a criminal justice program. Social science was as close as it came. I think the degree helped me in dealing with more responsibility and dealing with people. I dealt with people from different walks of life daily for the 13 years I was on the State Police. When I was on the State Police, a degree wasn't a prerequisite, but when you enter the business arena — they were looking for someone with advanced education.
Is there anything you wish you knew before starting your career as a private investigator?
I don't know if you're ever prepared totally for the experiences life deals you. I had a lot of unique experiences with the State Police, which were very valuable. The advanced education from Tri-State helped me by enhancing my communications skills. When I was with the State Police, I enjoyed the criminal investigation much more than traffic enforcement. Even when I was in undercover narcotics, those experiences have assisted me in my current profession. When I became a private investigator, then a legal investigator, I had a better understanding of what was required in the criminal justice system when working those types of cases, as well as investigating accidents that involve personal injury. I'm very grateful for the time I spent with the State Police, Coachmen Industries and for my education at Tri-State University (Trine).
February 24, 2023
Jason Small says the support system at Trine University prepared him to succeed in graduate school.
1/3
February 21, 2023
Trine University criminal justice major Javier Padilla completed a prestigious internship opportunity with the United States Marshals Service at the end of last year, becoming the first student in Trine University's Department of Criminal Justice to earn an internship with a federal law enforcement agency.
2/3
January 3, 2023
Though only in his first year at Trine University, Garrett Adams has already had experiences typically reserved for upperclassmen.
3/3