Widmann Hall houses primarily high-achieving Freshmen students who have met key minimum academic criteria and/or attended an official new student Scholarship Day program at the invitation of the Admission Office. Widmann rooms are double-room occupancy, two- or three-bedroom apartments that offer a common living area and semi-private baths. Each suite is climate-controlled. In the common area of each suite, leather seating and a table and chair set are provided. On the main level, students have access to a vending area and a common lounge area with wireless Internet access, a large-screen TV, recreation equipment and fireplace. Located on the lower level is exercise equipment and a large study space including access to a copy machine and other study aids; laundry areas are located on each floor.
Two bedroom apartment suite layout: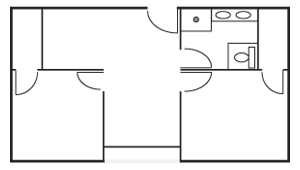 Three bedroom apartment suite layout: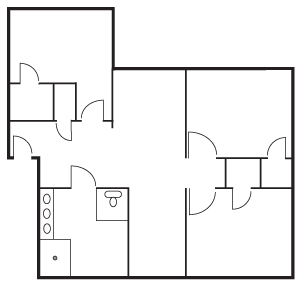 Note - diagrams represent an average apartment layout. Apartments may vary slightly.