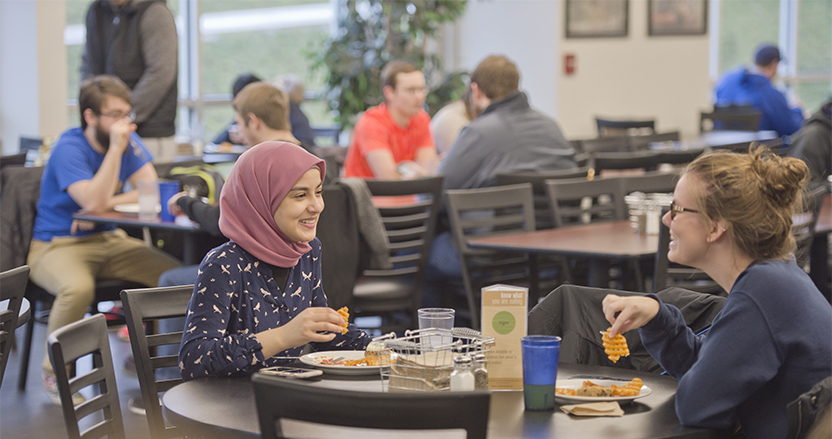 Hungry?
Our standards at Trine are very high. Our dining facilities and experiences are beyond exceptional. Whether you are stopping in Whitney Commons or chugging along over to The Depot Grill to enjoy food served by Bon Appetit, you are sure to leave satisfied and full.
You'll also be delighted with our two campus coffee shops - Centennial Station in Forman Hall and The Bean Counter in Ford Hall. From lattes to frappuccinos and salads to sandwiches, both locations cater to the on-the-go student grabbing breakfast or lunch before they head off to class or their next study session.
You can always see what's on the menu for the day at all dining facilities or sign-up to receive menu emails.

Meal Plans
At Trine you can custom tailor your meal plan; flex dollars, full meal plan, commuter plan, villa plan, etc. All you need to do is enjoy the food! Please note that students living on campus are required to have a meal plan.

Special note to parents
Bon Appetit offers a great Hugs from Home program so you can treat your special student to a gift basket or care package anytime during the semester. A great idea for the holidays, birthdays or just because you love them.
Learn more about the Hugs from Home program.
Trine's Fast Plan Information:
Adding Money: Payments accepted by cash, credit or check (made payable to Bon Appetit)
Locations for payment: Any of our four locations at the cashier stands, or you can call (260) 665-4811) to add dollars. Students can let the cashier know they need to add money to their Fast Plan, and they will take payment. Amounts are added within 12-24 hrs for full use. Students can also purchase items/meals at that time. The cashier will make note to have the amount debited from the account.
Locations: Whitney Commons Café (main cafeteria located in the University Center), Depot (Train Depot by the railroad tracks), Centennial Station (Forman Hall basement below the Business Office), or The Bean Counter (basement of Ford Hall)
Students can check out our coffee shops (Centennial and The Bean) for breakfast and lunch options as well as specialty coffee drinks.
The Fast Plan works the same as a preloaded debit card, except the funds will work with the student's Trine ID card. Any amount can be added and we will add a 10% bonus, e.g., add $50 and we will add $5 for a total of $55. Any remaining dollars left at the end of each semester will roll over to the next semester as long as they remain a student here at Trine. Students are encouraged to use up their remaining dollars at the end of their time as a student here, since we are unable to refund any remaining amounts.
Students can check their balance at any of the cashier stands or check the receipt printed after purchase of a meal or food/drink items at the coffee shops.
Link to check current balance.
https://trine.campuscardcenter.com/ch/login.html
The student will just need to let the cashier know they are paying with their fast plan so the cashier can choose the appropriate payment option.
Fast Cash rolls over / Flex Dollars do not