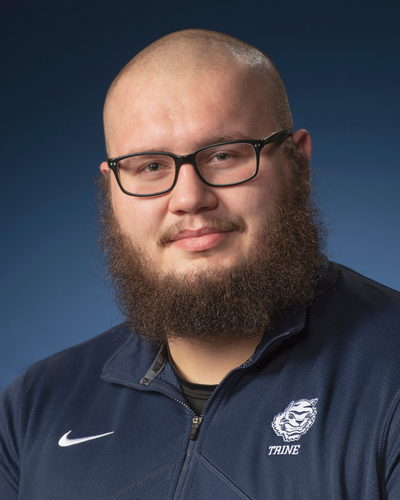 James Baranoski is a 2019 graduate of Defiance College in Defiance, OH with a Bachelor of Science degree in Exercise Science with a concentration in strength and conditioning and coaching. While at Defiance James competed both for the football team and the Men's Indoor and Outdoor Track and Field teams. He is originally from Bloomingdale, MI and currently lives in Ohio with his wife Jessica, son Barrett, and dogs Jiraiya and Jake.
While not on campus, James enjoys spending time with his family, playing card and board games, and traveling when possible. James is currently an active powerlifter and strongman and enjoys training and competing in both! James is coming to Trine with three years of experience in admissions and is really looking forward to all the fun and wonderful things Trine has to offer!
James loves Trine for the small environment and relationship building that a smaller school has to offer. Also, the great supportive community both on and off campus that you will find here at Trine.
James Baranoski
Assistant Director of Admission
260.665.4164
800.347.4878