Experience Trine for Yourself!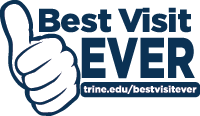 There's only one sure way to know if a college is right for you – visit the campus. It's that simple. It's that important.
When you visit Trine's amazing, unique, and beautiful campus, it will be your best visit ever! How do we know that? Students and their families tell us that all the time. Why are Trine visits so awesome? Because we make it all about YOU.
Not able to visit in person just yet? No problem. Take a look at our Virtual Visit page in the meantime.



Individual Visit
This weekday visit is customized for you and your family. You let us know when you want to arrive, then you'll see the things that you want to see and do the things that are most important to you.



Storm Saturdays
Saturday visits are another great way to find out if Trine is right for you. Join other prospective students for a tour, admission presentation, and brunch in the student cafeteria.




Preview Day



Alongside other future Trine students, you'll get an extensive tour of our beautiful campus, residence halls, athletic facilities, and speak with faculty, staff, and students.

Bring Your Organization or Group to Campus
Interested in bringing a group of prospective students to campus? Check out our Group Visit page, where you can learn more about what we offer and register for one of the available dates.
Is a visit to campus important? Of course it is!
Why Trine?
If you want to know "Why Trine?" the answer is simple. Excellence describes everything we do. From our outstanding faculty and degree programs, to our gorgeous campus and first-class facilities, we expect the best from ourselves and from our students. That's why we have Indiana's best career placement rate of graduates (99.7 percent*) and are ranked each year as a "best" university by U.S. News & World Report and Princeton Review. If you expect the best of yourself and expect the best from the college you'll attend, then choose the best - Trine University. Pride in who we are – it's a Trine thing.
Join the Next Class at Thunder Nation
Now is the time to apply to Indiana's best university. Our easy and free online application (with no essay) will bring you one step closer to a life-changing Trine experience.

Opens in new window
At Trine, our commitment to excellence has formed the bedrock of our experience for well over a century. You'll see it, and you'll feel it, the second you step on our beautiful, 450-acre campus in Angola, Indiana.
Come visit Trine University. You'll be so glad you did. It'll be the best campus visit you've ever had.
*Based on 2021 Trine University Graduating Class Knowledge Rate of 89.9%, 402 of 447 responding. Compared to 2020 Graduation Class National Knowledge Rate of 66% from 549,972 total recorded.