Physician Assistant Studies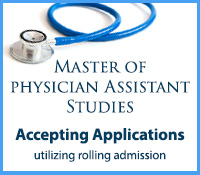 Located in Fort Wayne, Indiana
The Master of Physician Assistant Studies Program* at Trine University is a seven-semester program designed to prepare students to succeed, lead and serve the community and the physician assistant (PA) profession. The MPAS program will be the beginning of a lifelong journey in the pursuit of knowledge, professional development, and personal growth. The program is also committed to maintaining the highest moral and ethical standards.
The Trine University MPAS program provides students with an unparalleled experience. The program is located in the growing Trine University Fort Wayne College of Health Professions on the Parkview Hospital Randallia campus in Fort Wayne, Indiana, with a state-of-the-art Physical Assessment Laboratory and top-of-the-line classroom technology.
Program highlights
State-of-the-art Clinical Skills Laboratory and top-of-the-line classroom technology
Dedicated and passionate faculty
Seven-semester curriculum with 4 semesters didactic and 3 semesters clinical
Partnerships with Lutheran and Parkview health systems and member of the Fort Wayne Area Interprofessional Education Consortium for Graduate Health Care Education.
Additional information can be found on our Frequently Asked Questions page.
*The ARC-PA has granted Accreditation-Provisional status to the Trine University Master of Physician Assistant Studies Program sponsored by Trine University. Accreditation-Provisional is an accreditation status granted when the plans and resource allocation, if fully implemented as planned, of a proposed program that has not yet enrolled students appear to demonstrate the program's ability to meet the ARC-PA Standards or when a program holding Accreditation-Provisional status appears to demonstrate continued progress in complying with the Standards as it prepares for the graduation of the first class (cohort) of students.
Accreditation-Provisional does not ensure any subsequent accreditation status. It is limited to no more than five years from matriculation of the first class. Accreditation remains in effect until the program closes or withdraws from the accreditation process or until accreditation is withdrawn for failure to comply with the Standards. The date for the next validation review of the program by the ARC-PA will be October, 2022.
The program's accreditation history can be viewed on the ARC‐PA website at: http://www.arc-pa.org/accreditation-history-trine-university/ .
Program Information
Degree
Master of Physician Assistant Studies*
Campus Location
Fort Wayne, IN
School/College