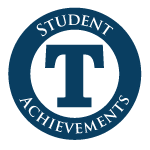 Prepare to enter the exciting and personally rewarding career of criminal justice with the associate in criminal justice degree program. To be eligible for an associate degree, a student must earn a minimum of 16 credits at Trine.
Two associate degrees may be received at the same time provided all requirements for both degrees have been met and the student has earned a minimum of 16 credit hours more than the degree with the lower minimum hour requirement.
General Education - 21 credit hours
Communication - 6 hrs.
Humanities & Social Sciences - 6 hrs.
Mathematics - 3 hrs.
Science - 3 hrs.
Other - 3 hrs.
Content Requirements - 24 credit hours
CRJ 103 Introduction to Criminal Justice
CRJ 133 Criminal Justice Report Writing
CRJ 153 Juvenile Justice
CRJ 263 Introduction to Criminal Law & Justice
CRJ 273 Criminal Procedures & Evidence
CRJ 343 Criminalistics & Crime Scene Investigations I
PSY 113 Principles of Psychology
PSY 383 Forenic Psychology
Additional Requirements - 15 credit hours
University Experience - 1 hr.
Electives - 14 hrs.
For a complete description of the above requirements, please go to the Course Catalog.
Program Information
Degree
Associate in Criminal Justice
Campus Location
Angola, IN
School/College