Allen School of Engineering and Computing

Design. Invent. Build.
Change the way society operates. That's how engineers and technologists approach the world. In the Allen School of Engineering and Computing, we teach you the skills you need to explore and discover innovative solutions for today's complex problems in engineering, computer science and information technology. As a leader in rapidly changing fields, you'll need practical expertise focusing on technical, intellectual and interpersonal skills. That's what we do at Trine. And that's why 99.3% of the Class of 2021 was employed or in graduate school within six months of graduation*.
You will work one-on-one with top-notch professors who've earned advanced degrees from universities including MIT, Yale, Princeton, Notre Dame, Stanford, Virginia Tech and The University of Texas. Eighty-five percent of Trine's engineering faculty have doctorates and one-third are registered professional engineers. There are no teaching assistants, and our average class size is 19.8 students, ensuring you'll interact with faculty and peers in a stimulating learning environment.
Engineering and computing at Trine means performing actual work. Students develop and apply new technologies such as micro-scale cooling of computer chips; semi-conducting materials for thin film transistors; metallic recovery from scrap; hydrogen production from industrial waste; and instruments for use in orthopedic surgery. Student groups participate in regional and national competitions, building anything from fire-fighting robots to off-road utility vehicles and concrete canoes. Degree programs are designed to meet critical needs, including areas such as cybersecurity, health informatics and web development.
Trine engineering and computing graduates enter the workforce well prepared. Why? The practical skills and experiences they've gained through their senior design projects, the hands-on nature of our laboratories, and internships and co-ops have earned Trine graduates the reputation of being work-ready. Trine graduates are highly sought by industry and earn starting salaries above the national average.
Leading the way in Engineering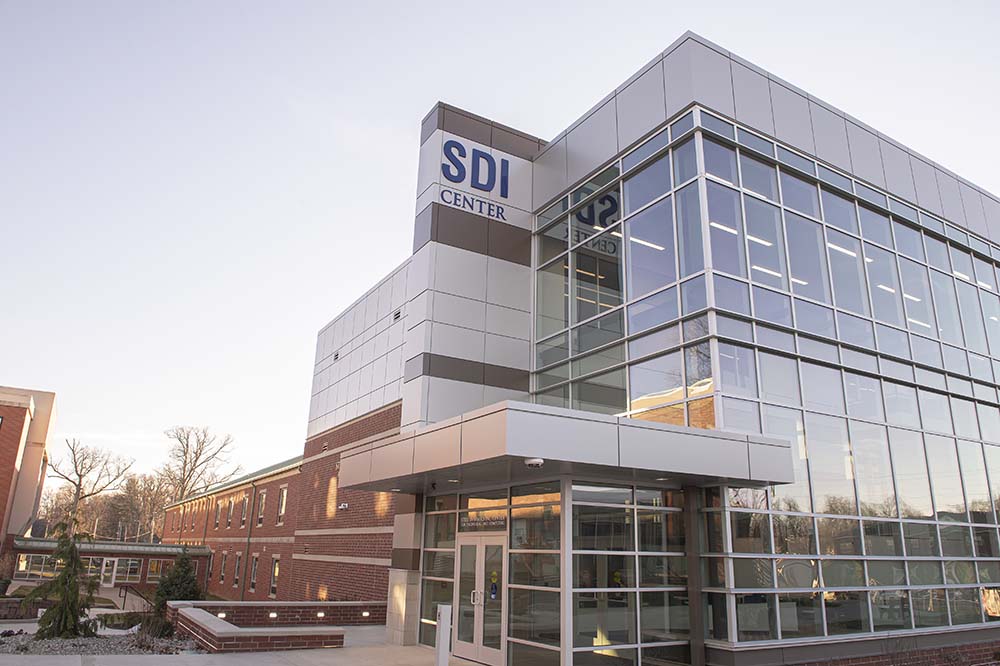 The new Steel Dynamics Inc. Center for Engineering and Computing on Trine University's main campus in Angola, Indiana, features an airy, glass-walled exterior that is a striking addition to the heart of the Trine University campus. The expansion also features:
state-of-the-art technology supporting new classrooms and labs, including an artificial intelligence/virtual reality lab;
updated laboratories for teaching and research activities in tissue engineering and bioprocess engineering;
three additional computer laboratories with specialized software and hardware for biomedical engineering, cybersecurity, virtual reality, artificial intelligence and video game design;
an active learning lab with a maker space to foster creativity;
expanded faculty office space; and
bright, open spaces for collaboration and conversation, including a new gathering point and cafe available to the entire campus.
Bachelor's Degrees
Minors
Master's Degree
---
Accreditation
Trine University's biomedical, chemical, civil, electrical, computer, software, and mechanical engineering is accredited by the Engineering Accreditation Commission of ABET , http://www.abet.org .
---
*Based on 2021 Trine University Graduating Class Knowledge Rate of 89.9%, 402 of 447 responding. Compared to 2020 Graduation Class National Knowledge Rate of 66% from 549,972 total recorded.