Recruiting and Retaining Officials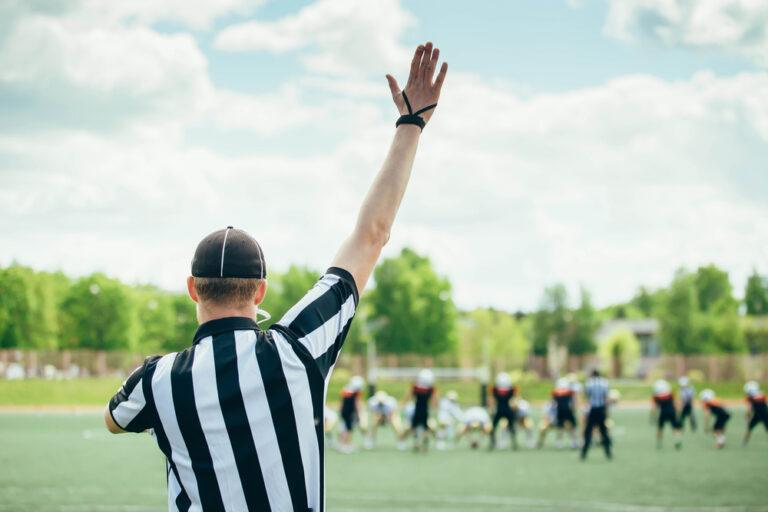 A few days ago, I accepted an invitation from the IUPUI Sports Innovation Institute to register a team of four Trine University students in their Sports Officiating Innovation Challenge. The Challenge is presented in conjunction with the NCAA Division I Men's Basketball Tournament, commonly known as March Madness, which will take place throughout different locations in Indiana. The charge for this year's Challenge is to help find solutions to enhance the recruitment and retention of sports officials. We have explored this topic during an episode of the Trine Center for Sports Studies Podcast with Dr. David Hancock (https://css.transistor.fm/6), but I wanted to dig into the data and find out how prevalent of a problem recruiting and retaining officials is, and it's not pretty.
Although the coronavirus pandemic has limited the number of participants and officials in youth sports, the shortage of officials has been apparent for the past few years. According to The Aspen Institute, "the average age of a starting official in 1976 was 20 years old; by 2016, it was 42. There are more officials over 60 than under 30 in what's become a graying industry" (Solomon, 2020, para. 2). In fact, in high school sports, 80% of officials quite before their third year (Solomon, 2020). To get a sense of the scope of the problem, consider these statistics from Barnhouse (2018):
The South Caroline Referee Association reports that 70% of rookie officials in youth soccer quit after one season.
From 2016 – 2018, the New York State Public High School Athletic Association lost 160 officials in all sports.
From 2007 – 2017, the Iowa High School Activities Association has a 12% decrease in its number of registered officials in seven sports: basketball, baseball, football, soccer, swimming, track and field, and wrestling.
The Illinois High School Association estimates that it had lost about 1,500 officials from 2015 – 2018.
The Kansas State High School Activities Association has 1,372 registered officials across all sports in 2012 – 13. In 2018, that number was down to 1,189.
The Florida High School Athletic Association had 11,029 officials for all sports during the 2010-11 school year. Less than a decade later, the number has dipped to 7,795.
The Madison (Wis.) Metropolitan School District for the 2017-18 school year hired approximately 250 individuals to officiate more than 800 high school sports events. (para. 7)
The questions then is why are there fewer officials? According to the Masters of Athletic Administration program at Ohio University (2018), there are various reasons: one, younger officials are not replacing older officials. Two, youth sport, middle and high school officials are often poorly paid or volunteers. Three, as the sporting environment grows more negative, it is getting more difficult to recruit new officials. Poor behavior from spectators is cited as the number one reason why officials left the field (Ohio University, 2018). Four, advancement opportunities in officiating, high school to college for example, are difficult.
So, with this information in hand, what can be done? That is what a team of Trine students will confront head-on over the next few months. I'm excited to share their results, but in the meantime, give the refs a break and let's set a positive example of our kids.
References
Barnhouse, W. (2019, April 19). High school sports struggling with shortage of officials. Global Sport Matters. https://globalsportmatters.com/youth/2018/09/20/high-school-sports-struggling-with-shortage-of-officials/.
Ohio University. (2018, October 9). The Nationwide Decline in Sports Officials. Ohio University Online Master of Athletic Administration. https://onlinemasters.ohio.edu/blog/the-nationwide-decline-in-sports-officials/.
Solomon, J. (2020, May 19). Will there be enough officials when youth sports games return?. The Aspen Institute. https://www.aspenprojectplay.org/coronavirus-and-youth-sports/reports/2020/5/19/will-there-be-enough-officials-when-youth-sports-games-return.
Brandon Podgorski is an Assistant Professor of Sport Management at Trine University and the Director of the Trine Center for Sports Studies.