September 23, 2020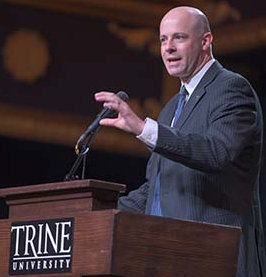 Why do we study sport? At the end of the day, people like to say "it's just a game" but did you know that the industry is worth $60.5 billion in the United States (Heitner, 2015)? Sometimes I receive funny looks when I tell people that I am a Sport Management professor, apparently they think that I just recreate ESPN's First Take with my students all day, but there are currently over 400 sport management degree programs offered throughout the U.S. At Trine, our Sport Management alumni have gone on to work in the front office of professional teams, sold tickets to the world's largest one-day sporting event, and even started their own NBA G-League team. PricewaterhouseCoopers (2019) projects the sports market across North America to grow at a compound annual rate of 3.2% across media rights, gate revenues, sponsorships, and merchandising so the industry is in need of business-ready graduates with the skills to make an immediate impact. So, why do we study sport? Woods (2016) presents five reasons and I will elaborate on each one:
Sport builds connections between people. A funny anecdotal story. When my wife and I began our search for a new home in the fall of 2017, we decided to spontaneously stop at an open house one Sunday after church just to get an idea of what we could afford. We had eight months remaining on our apartment lease so there was no intension of purchasing a home in the near future. The realtor at the open house was a nice young man named Caleb and he was very professional and allowed us to tour the home on our own. It wasn't until we were leaving that he must have noticed my license plate frame and said, "I'm a Cubs fan too!" We both complained about the previous game's bullpen usage and Caleb went from being "just another salesman" to "my good buddy" within five minutes. At lunch later that afternoon, I convinced my wife that this was obviously a sign that he had to be our realtor and two months later, he sold us our current home. This is a goofy story but my love of baseball and the Chicago Cubs began when I was seven years old and this is a crucial time for kids involved in sport. When surveyed, two of the top reasons why kids play sports is to have fun and to be a part of a team (Woods, 2016). These relationships often last well into adulthood, how many of your former teammates do you stay in contact with?

A team give a city or school an identity. Most sport sociologists would agree that one of the biggest reasons why people become a fan of a particular team or school is its connection to their community. For example, before the arrival of the NHL's Golden Knights, Las Vegas was one of the nation's largest metropolitan areas without a major professional sports team. In their first year as an expansion team, the Golden Knights lost in the Stanley Cup Finals, but hockey fever captured a fan base located in the middle of a desert. In their third season, and before the current coronavirus pandemic, the Golden Knights averaged 18,281 fans per game. T-Mobile Arena's capacity for hockey, according to the venue, is 17,500, meaning Vegas is averaging 105.3% of capacity, which is fourth highest in the league (Okamoto, 2020). For the 2020 season, the goalie for the Golden Knights, Marc-Andre Fleury, has the fourth-highest-selling jersey in the entire league (Okamoto, 2020).

Athletes are seen as societal role models. In a 1993 Nike commercial, Charles Barkley famously proclaims, "I am not a role model". He goes on to say that parents should be role models as his only job is to, "wreak havoc on the basketball court". He may very well be right, but "the weight of evidence shows that young folks look to people whom they admire for clues about life" (Woods, 2016, p. 259). As a result, successful athletes who are put on display by the media impress young people who do not have caring and capable parents and coaches to help them differentiate between the positive and unacceptable traits of famous athletes (Woods, 2016). Unfortunately, traditional and social media are filled with examples of athletes behaving badly and this is where children need the intervention of a parent or coach to explain the principles of good sportsmanship. For example, I can understand why, at the professional level, a pitcher throws at a batter after someone on his team was beaned in the previous inning. It's a way for players to police themselves and, after some pushing and shoving, it may actually decrease tensions, similar to fighting in hockey. When this happens however, parents and coaches need to explain the situation to their children and why this would be unacceptable behavior for kids. According to Woods (2016), "research shows that when children are systematically taught about fair play and moral development, character can be enhanced through sport" (p. 260).

Sport affects cultures, traditions, and values. Baron Pierre de Coubertin, founder of the modern Olympic Games, created the Olympic Creed – "The important thing in the Olympic Games is not winning but taking part. The essential thing in life is not conquering but fighting well". Sport enhances social and cultural life by bringing together individuals and communities. Sports can help to overcome difference and encourages dialogue, and thereby helps to break down prejudice, stereotypes, cultural differences, ignorance, intolerance and discrimination (COE, 2017). For example, soccer is the most popular sport in the world and in 2003 the Homeless World Cup was created to support and change perceptions and attitudestowards the homeless. After the 2007 Cup in Copenhagen, 71% of players came off drugs and alcohol, moved into jobs, homes, training, education, and repaired relationships all while containing to play soccer (COE, 2017). We don't have to look to far to see the impact of sports however. In communities all over the U.S., Police Athletic Leagues, YMCAs, CYOs, and countless other sporting initiatives are working to provide opportunities for everyone to enjoy competition.

Sports offers insight into societal issues. One of my favorite sports movies is Bull Durham and one of my favorite lines from the movie is Susan Sarandon quoting Walt Whitman as saying, "I see great things in baseball. It's our game, the American game. It will repair our losses and be a blessing to us." While sports has the amazing ability to unite us, it can also give players an opportunity to spotlight social causes that are close to their heart. From Muhammad Ali refusal to be drafted during the Vietnam War to Billie Jean King's "Battle of the Sexes" to today's players kneeling in solidarity with the Black Lives Matter movement, sports can bring to light social issues that have been lying just beneath the cultural surface. What remains to be seen is how the present embrace of social justice issues in professional sports affects the bottom-line of teams post pandemic. In an ESPN (2020) survey, 51% of fans felt players should share their views during events while 49% said they should speak out away from the court. 56% of fans supported players kneeling for the National Anthem while 44% oppose it (ESPN, 2020). Overall, however, 71% of the fans surveyed supported athletes speaking out (ESPN, 2020). Sport can be a great vehicle that drives social change and pro sport owners are now working hand-in-hand with players to support causes that are important to their communities.
Sport is big business and its financial and cultural impact in the U.S. and worldwide deserves our attention. While most sport management graduates will not go on to own a professional team or work as a general manager, there is still an opportunity to make a considerable impact at all levels of sport. We need good coaches at the youth level to teach proper techniques and principles such as hard work, sportsmanship, and teamwork. We need ethical leaders throughout sport to usher in positive social change. And finally, we all need sport to be that refuge where we can come together and cheer for our favorite team and build the social camaraderie that seems to be missing in today's world.
References
COE. (2017). Culture and sport. Council of Europe. https://www.coe.int/en/web/compass/culture-and-sport.
ESPN. (2020, August 13). Survey: Sports fans support social justice stance by athletes, teams. ESPN. https://www.espn.com/espn/story/_/id/29654147/survey-sports-fans-support-social-justice-stance-athletes-teams.
Heitner, D. (2015, October 19). Sports industry to reach $73.5 billion by 2019. Forbes. https://www.forbes.com/sites/darrenheitner/2015/10/19/sports-industry-to-reach-73-5-billion-by-2019/.
Okamoto, B. (2020, February 20). How the Golden Knights drove Vegas hockey-mad -- and how they plan to keep it that way. ESPN. https://www.espn.com/nhl/story/_/id/28739286/how-golden-knights-drove-vegas-hockey-mad-how-plan-keep-way.
PricewaterhouseCoopers. (2019). Outlook for the sports market in North America through 2023. PwC. https://www.pwc.com/us/en/industries/tmt/library/sports-outlook-north-america.html.
Woods, R. B. (2016). Social issues in sport (3rd ed.). Human Kinetics.
Brandon Podgorski is an Assistant Professor of Sport Management at Trine University and the Director of the Trine Center for Sports Studies.